Sanctuary Northern Rivers is a local community based not-for-profit organisation run by volunteers that assists off-shore refugees to come to Australia under the Government's Humanitarian Settlement program. Founded in late 2003, Sanctuary has assisted approximately 200 African refugees to settle in Lismore and Mullumbimby. It provides advice and sponsorship when applying for a visa under the program, financial assistance in the form of airfares for these people to come to Australia when a visa is granted and personal support throughout the settlement process.
In addition, it auspices the Universal Declaration of Human Rights project to schools as one of the organisation's key objectives is to educate young people and the community about the plight of refugees. Article 14 of the Declaration says people have the right to seek asylum in another country when under persecution in their own country.
Email: This email address is being protected from spambots. You need JavaScript enabled to view it.
Sanctuary Northern Rivers inc is a volunteer organisation with minimal administrative personnel.
Enquiries can be made via email: This email address is being protected from spambots. You need JavaScript enabled to view it.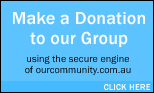 You can donate online to Sanctuary Northern Rivers by using the secure facility provided by ourcommunity.com.au
Simply click on the button below and follow the prompts to make a one-off or regular donation to Sanctuary's life-saving work.