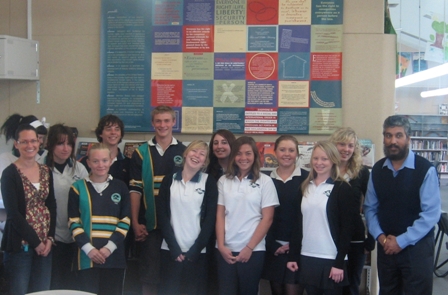 How Can My School Get a Banner?
Your school can contact Sanctuary N.R. directly via the contact form on this website. Please nominate the preferred size of wall hanging for your school in your email.
Let us know if you would like a formal presentation of the wall hanging to your school by someone from Sanctuary N.R.. Please allow at least 3 weeks notice to enable Sanctuary N.R. to arrange for the printing and delivery of the banner.
The project has the support of and is commended by the Director General of Education and Training, and by the Minister of Education in NSW.
The project does not aim to tell schools how the wall hanging should be used or to propose specific curricula activities - believing that these are well catered for through formal Departmental channels.
The offer is available to any school in the Northern Rivers region that agrees to permanently display the wall hanging in a public place where it can be seen by students and visitors.
The wall hanging is made of UV and water resistant vinyl and comes in two sizes:
1m high x 1.5m wide and 1.33m high x 2m wide
The school must also agree to be responsible for arranging for the hanging of the Declaration and for any ongoing maintenance.