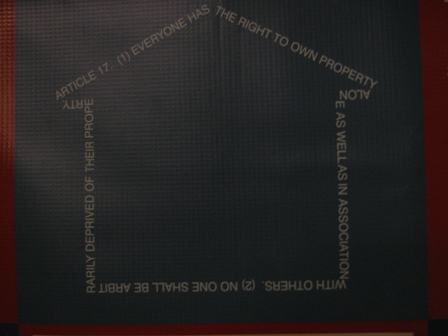 There are several ways businesses, community groups and individuals can support this project. The ongoing success of this project relies on donations from individuals, community organisations and businesses. Each wall hanging costs between $150 and $200 (depending on the size of the hanging chosen).
As Sanctuary Northern Rivers Inc is a registered charity under the Tax Act, all donations to the project are tax deductible.
(ABN: 88 782 443 934 - Registered Charity CFN: 17988)
Individual donations can be made either by:
sending a cheque to:
Sanctuary Northern Rivers Inc – UNDHR Project
PO Box 1146, Lismore, NSW 2480
direct deposit to:
Sanctuary Northern Rivers Inc (account name)
BSB No. : 728 728 A/c No. : 22271671
If you are making a donation via direct deposit, please include sufficient information to identify who the donation is from so that we can forward an appropriate receipt. If this is not possible, please email Sanctuary NR (This email address is being protected from spambots. You need JavaScript enabled to view it. ) and notify us of the donation.
Wherever possible, major sponsors will be acknowledged at the time of presenting the wall hanging to the school and in any media releases. A list of supporters is included on elsewhere on this website.